...und nehme mit! Nicht nur ein beliebtes Spiel mit Kindern, sondern auch meine Sommerkolumne während ich fleißig am Lernen und Klausuren schreiben bin habe ich ein paar liebe Menschen gefunden die ein paar ganz hübsche Dinge für euch in den Koffer packen.

Heute und die nächsten beiden Montage werdet ihr hier Anne von
@annekaffeekanne_
aus Instagram hier treffen. Ich freue mich riesig, dass Anne hier ist, weil sie eine so bombastische Köchin und Foodstylistin ist und das alles ganz frei Schnauze macht und neben ihrem Jura Studium. Aber Vorsicht ist geboten, wer einmal bei Anne vorbei geschaut hat:
kommt 1. nicht so schnell wieder weg
und 2. nicht ohne riesig Hunger zu haben.


Also seid gespannt, denn Anne packt in ihren Koffer ein paar leckere Sommerrezepte.
Hello lovelies from outside the German speaking regions, since I am studying and writing my exams right now I got some lovely people to come over for some entertainment. Unfortunately those post will be in german only I hope to update the english version after my exams for the ones who want to see some great pictures and food inspiration from todays blogger Anne step by at her instagram profile
@annekaffeekanne_
Die liebe Anna war so nett und hat mich gefragt, ob ich nicht gerne einmal als Gastbloggerin für euch schreiben möchte. Über diese Anfrage habe ich mich nicht nur gefreut, weil ich es als Ehre empfinde, hier zu schreiben, sondern auch, weil ich selbst leider so gar keine Zeit finde, einen eigenen Blog zu führen. Deshalb bin ich froh, euch hier ein paar der Rezepte vorstellen zu dürfen, deren Ergebnisse ihr bereits auf Instagram sehen konntet. Die Zubereitung ist jedes Mal äußerst simpel und schnell, ich bin nämlich ein sehr ungeduldiger Mensch und werde ganz fix ungenießbar, wenn ich hungrig bin und mit Löchern im Magen in der Küche werkeln soll. Und im Sommer hat man schließlich ohnehin Besseres zu tun, als stundenlang hinter dem Herd zu stehen. Also ran ans Werk und seid bei den Mengenangaben bitte flexibel - ich war es auch! Lange Rede, kurzer Sinn: Guten Appetit! Und lasst mich wissen, ob es euch geschmeckt hat!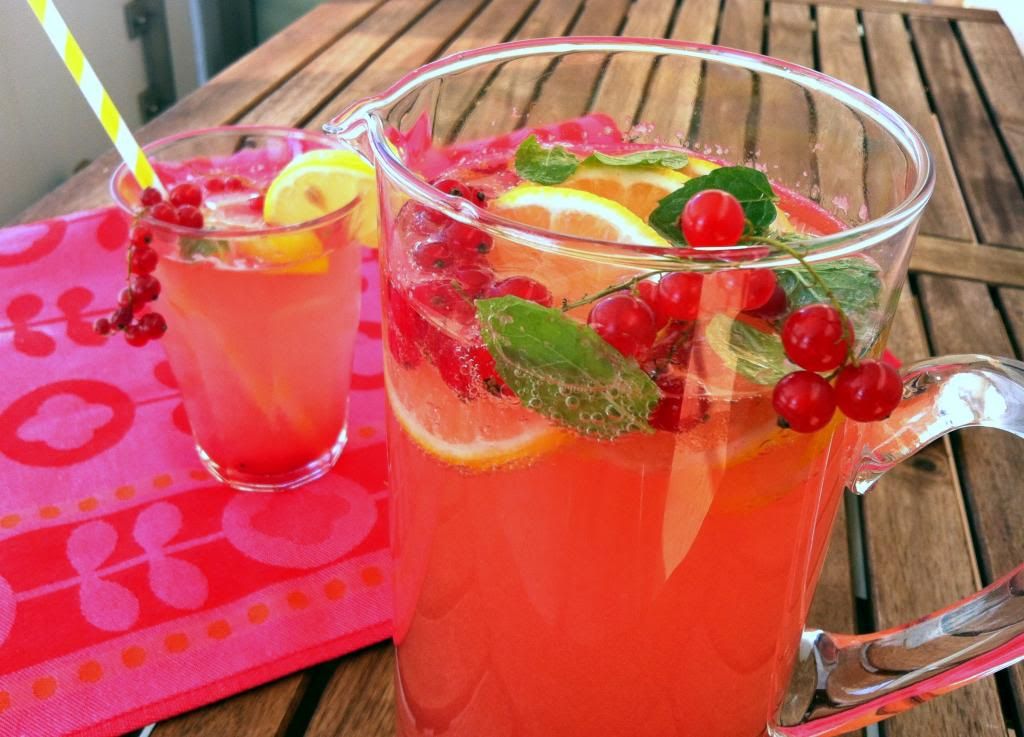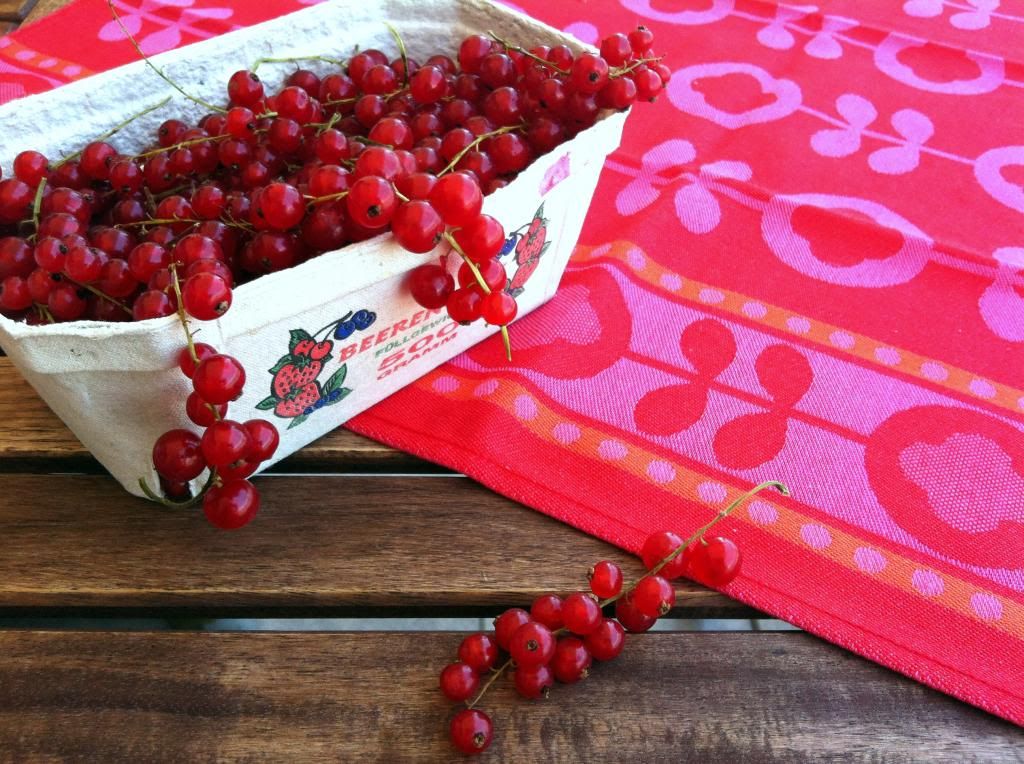 Zutaten für ca. 1,5 L Limonade
400 g rote Johannisbeeren
Mineralwasser (und/oder Sekt)
Zubereitung
1.
Johannisbeeren mit Zucker und einem Schluck Wasser aufkochen lassen. Solange köcheln lassen, bis sich der Zucker aufgelöst hat und die Beeren matschig werden.
2.
Beerensirup durch ein Sieb streichen und für 1-2 Stunden kalt stellen.
3.
Den Saft einer Zitrone zusammen mit dem Beerensirup in einen Krug füllen und je nach Geschmack mit Wasser und/oder Sekt auffüllen.
4.
Ganze Johannisbeeren, Minzblätter und Zitronenscheiben hinzugeben.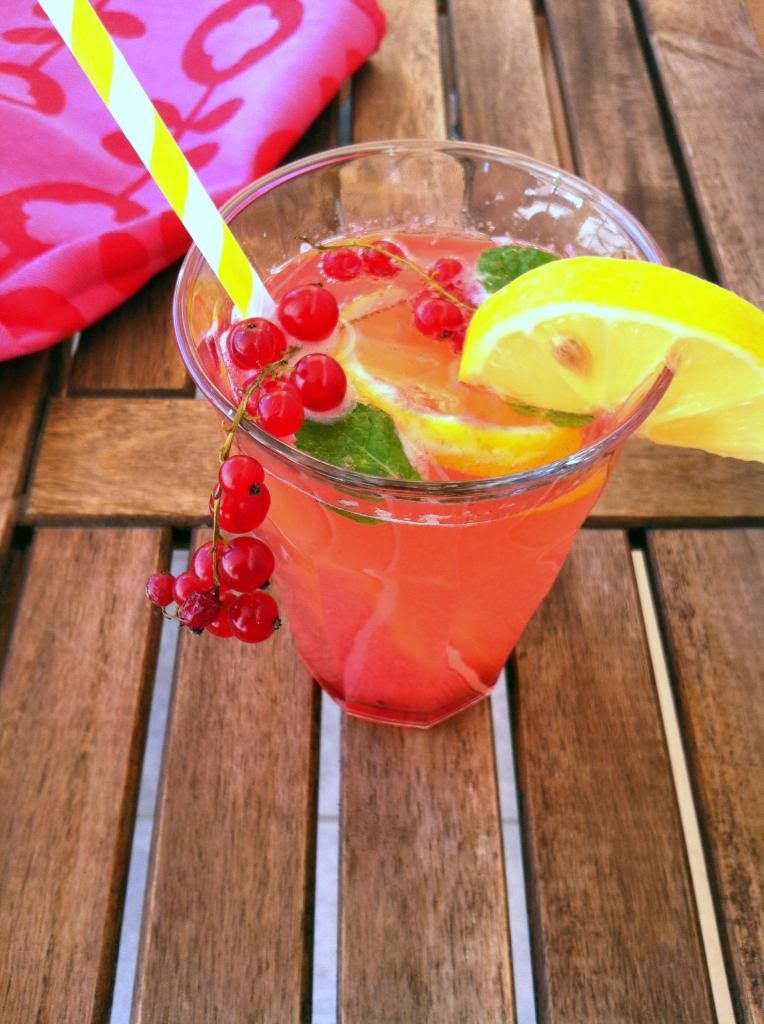 P.S.: Am besten schmeckt's übrigens, wenn ihr mit besonders guten Freunden kocht. In diesem Sinne danke ich noch meiner lieben Freundin Kathi (Instagram: @kcathie), die mich beim Fotografieren und Verputzen tatkräftig unterstützt hat.