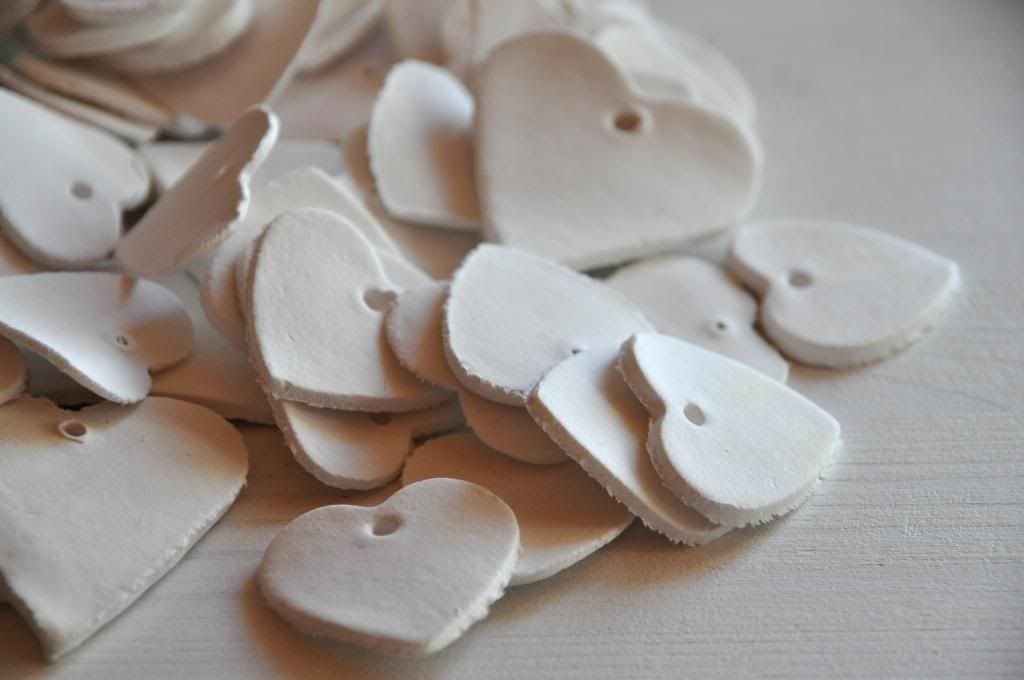 Meine liebe Freundin K. und ich tauschen schon seit ein paar Jahren Adventskalender, sie bastelt mir einen ich bastel' ihr einen und am Ende herrscht doppelte Freude. Weil man ja aber nicht jedes Jahr den Selben Kalender verschenken kann muss man sich zumindest für die Verpackung jedes Jahr etwas neues einfallen lassen. Und weil Zahlen drauf schreiben, kleben oder sprühen schon dran war musste etwas neues her, da kam es gerade recht, dass ich vom letzten Jahr noch ein paar hübsche Herz Tonanhänger übrig hatte.
My lovely friend K. and me are changing advent calendars every years, she creates one for me I one for her and in the end there is happiness twice. But since you truly can not send over the same packages every year a new idea needed to be born. And because writing, glueing or spraying numbers on the packages were my methods of last years it was really great when I came across my hearts out of clay from last years christmas presents.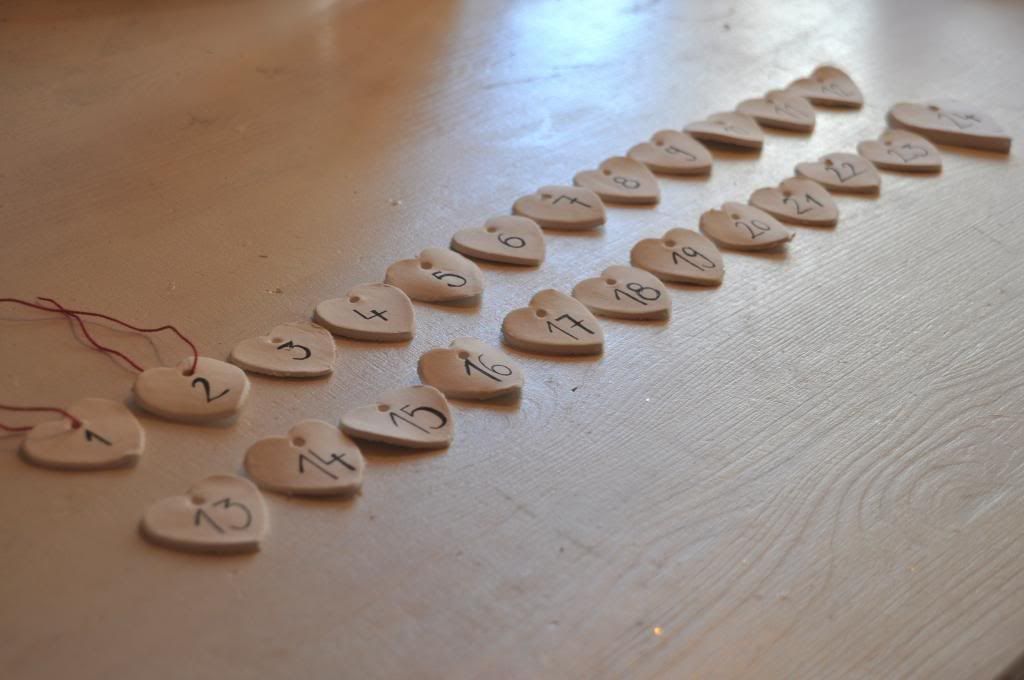 Wer nicht wie ich zufällig noch welche vom letzten Jahr übrig hat, kann diese hier ganz simple nach basteln oder sagt man mittlerweile diyen?!
For the ones who don't have left overs from last years xmas, I show how to make these cute tags.
Ihr braucht hierfür /
You need:
1 Packung weißen Ton /
1 package of white clay
1 glatte saubere Unterlage zum Ausrollen / 1 smooth and clean pad to roll out the clay
1 Wellholz/Kerze/Frischhaltefolienrolle / 1 rolling pin/ candle/wrapping film roll
Plätzchenausstecher / cookie cutters
Schaschlickspieß / spit
Schnur / twine
Tintenroller / Lackstift / paint stick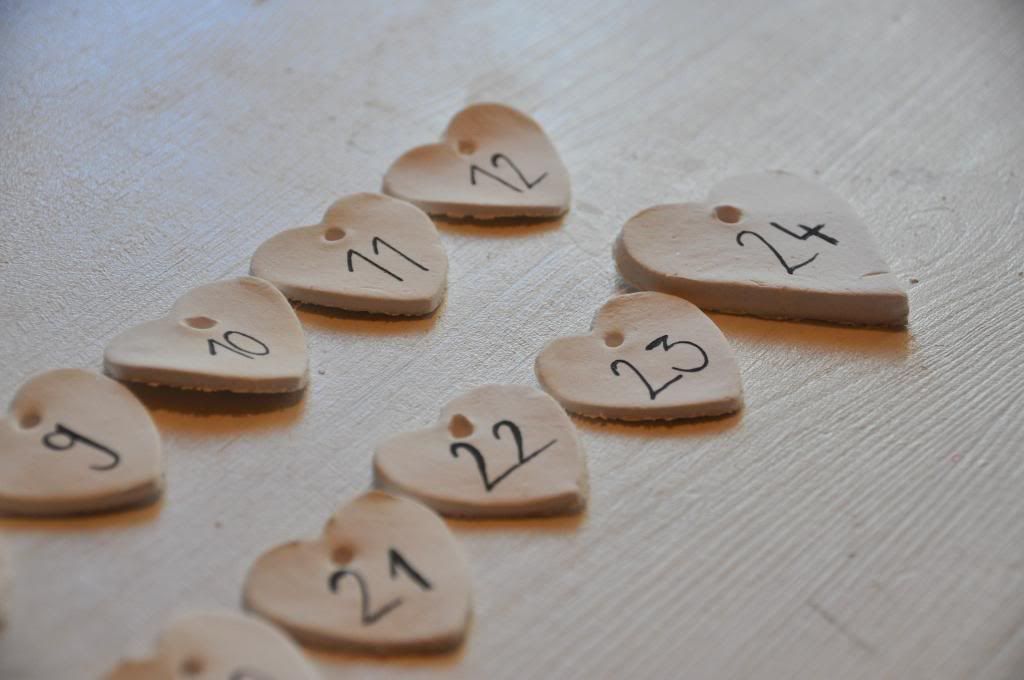 Einfach eine Packung weißen Ton kaufen, ich hatte meine aus der Bastelecke wo auch die ganzen Acryfarben und Leinwände stehen bei NanuNana, man finden ihn aber beispielsweise auch bei Idee oder in jedem anderen gut sortierten bastelgeschäft. Dann eine glatte Unterlage finden und mit einem Bastelwellholz/Kerze/Frischhaltefolienrolle ausrollen. Mit einer Plätzchenausstecherform die gewünschte Form - in meinem Fall Herzen ausstechen mit einem Schaschlickspieß Löcher reinpiecksen (ACHTUNG!!! nicht zu nah am Rand) und trocknen lassen. Dann mit einem Tintenroller Nummern von 1-24 drauf schreiben und an einer Schnur befestigen.
Buy a package of white clay, I got mine out of the crafting department at NanuNana, but you can also find it at idee or any other well equipped crafting store. Then place the clay on a smooth and clean place and roll it out using your rolling pin. Now cut clay cookies with the cookie cutter and make little wholes on the top of the heart (ATTENTION!!! don't make them to near of the borders) and let them dry. Then write the numbers from 1 to 24, one on each clay cookie and get the twine through the little whole and ready.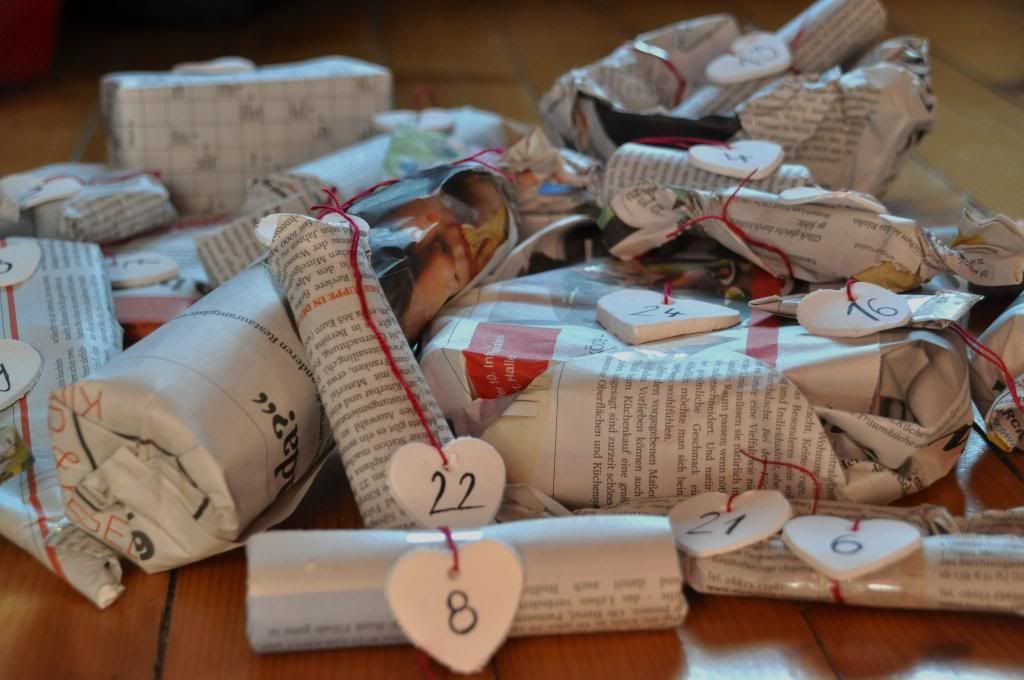 Und weil alles immer clean einpacken ja auch ein bisschen langweilig ist habe ich mich für die Zeitungsvariante entschieden. Ich finds' hübsch und hoffe ihr auch. Die Anhängerchen lassen sich übrigens auch super als Namensschildchen für Geschenke oder mit einem hübschen Satinband als Weihnachtsbaumschmuck umfunktionieren.
And since packing all the presents in wrapping paper sometimes is a little clean I decided to use some old newspaper. I like the mix of chicness and newspaper and hope you like it too. The clay cookies can also be used as name tags for your xmas presents or dressed up with a nice satin ribbon a nice xmas tree jewelry.
Have fun making your own.
lots of love,