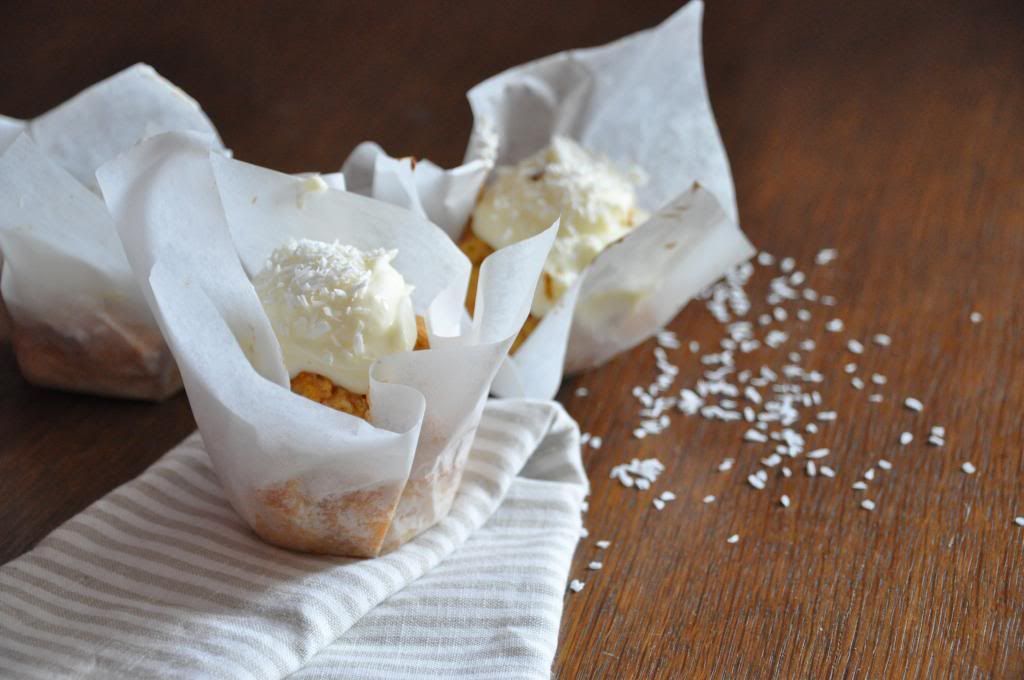 Diese Woche schein Karotten Woche zu sein:
einen leckeren Kuchen
gab es dieses Woche schon bei ei der lieben Katharina von ess.raum und heute gibt es auch ein paar Karotten bei mir - in Muffinform mit Apfel und mit einem tollen Frischkäsefrosting.
This weeks seems to be carrot week the lovely Katharins from ess.raum already presenter this
amazing cake
and also I am enjoying some carrots but in form of muffins with some apple and an amazing cream cheese frosting.
ZUTATEN für 12 Muffins /
INGREDIENTS for 12 Muffins
150 gr Karotten /
150 gr carrots
2 EL Zitronensaft /
2 TS citron juice
175 gr + 25 gr weiche Butter /
175 gr + 25 gr soft butter
200 gr Zucker /
200 gr sugar
1 Prise Salz / 1 pinch salt
1/2 TL Zimt /
1/2 ts cinnamon
250 gr Mehl /
250 gr flour
50 gr Speisestärke /
50 gr cornflour
2 TL Backpulver /
2 ts baking powder
175 gr Doppelrahmfrischkäse /
175 gr cream cheese
60 gr Puderzucker /
60 gr powdered sugar
Kokosnussflocken /
coconut flakes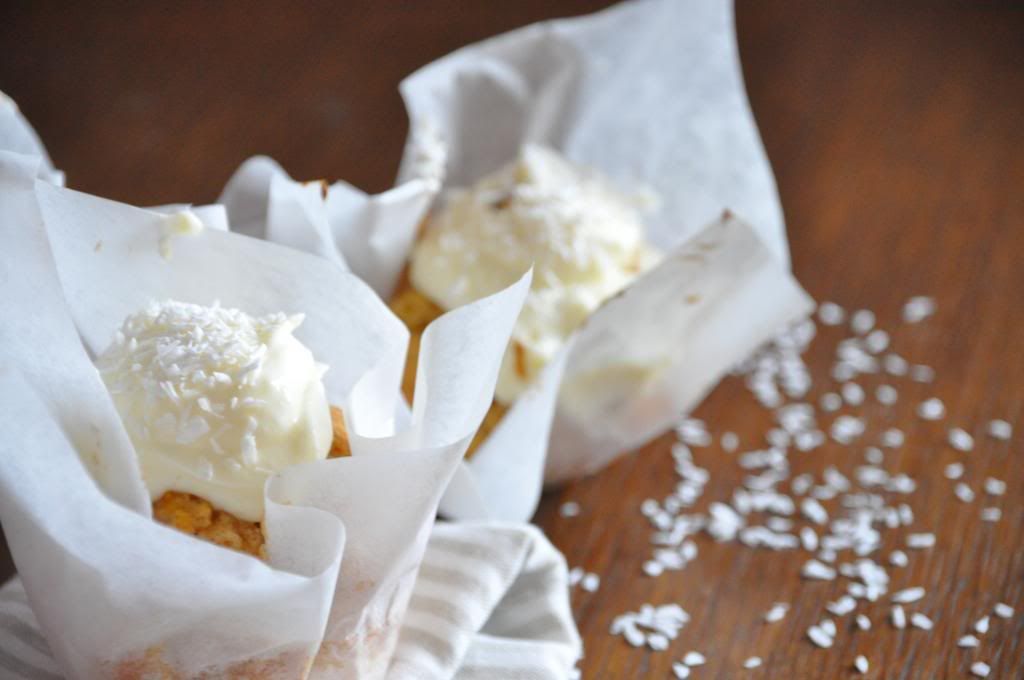 Den Backofen auf 150 °C vorheizen und ein Muffinblech mit Förmchen ausstatten. Die Karotten und Äpfel schälen und reiben, anschließend sofort mit Zitronensaft beträufeln, sodass sie nicht braun werden.
Preheat the oven to 150 °C and put some paper forms in a muffin tray. Peel the carrots and apples - grate them and give the citron juice over them so they won't get brown.
175 gr Butter, Zucker, 1 Prise Salz und Zimt mit einem Rührgerät ca. 5 Minuten cremig rühren. Die Eier nacheinander hinzugeben. Mehl, Stärke und Backpulver mischen, kurz unterrühren dann Äpfel und Karotten unterheben.
Mix 175gr butter, sugar, 1 pinch salt and cinnamon with a mixer for about 5 minutes until it's smooth. Add the eggs one by one. Mix flour, cornflour and baking powder, add the apples and the carrots.
Den Teig in die Förmchen geben, im heißen Backofen ca. 30 Minuten backen (mit der Stäbchenprobe testen). Herausnehmen und abkühlen lassen. Dann in einer Schüssel Frischkäse, übrige Butter und Puderzucker verrühren, etwas Milch hinzugeben bis eine zähe Masse entsteht. Diese auf die abgekühlten Muffins geben und mit Kokosflocken bestreuen.
Put the dough in the forms and get everything in the hot oven. Bake for 30 minutes (test with a chopstick). Take the muffins out of the oven and let them cool down. Take a bowl and mix cream cheese, the left butter and the powdered sugar, put a little milk in the mix until it gets a stringy mass. Put a Table Spoon on every muffin, pour the coconut flakes over it and enjoy.
Vielleicht stehen sie ja schon am Wochenende auf eurem Tisch.
Maybe they'll already land on your table on the weekend?
lots of love,