Wer noch nach dem richtigen Tischsetting für Ostern sucht heute eine kleine und zugleich leckere Inspiration. Schon seit ich klein bin gibt es bei uns zu Ostern diese süßen Kränzchen meistens schon ein wenig vorher gebacken um auch noch genügend an liebe Freunde und Bekannte zu verteilen. Wer noch schnell für das Osterfrühstück oder den Osterbrunch am Sonntag und Montag nach backen möchte einfach weiterlesen. Benutzt habe ich das Rezept für den Hefeteig aus der aktuellen deli, geht aber natürlich auch mit allen anderen Rezepten.
If someone is still looking for the right table setting for your easter breakfast or brunch I got some yummy inspiration for you. As long as I can think my mom made those cute and yummy easter baskets sometimes a little before easter so family and friends were also provided with those yummy braided buns. For the ones who want to bake those braided buns for your Easter breakfast or brunch on sunday or monday go on reading and find the recipe, I used the one of the current deli magazine.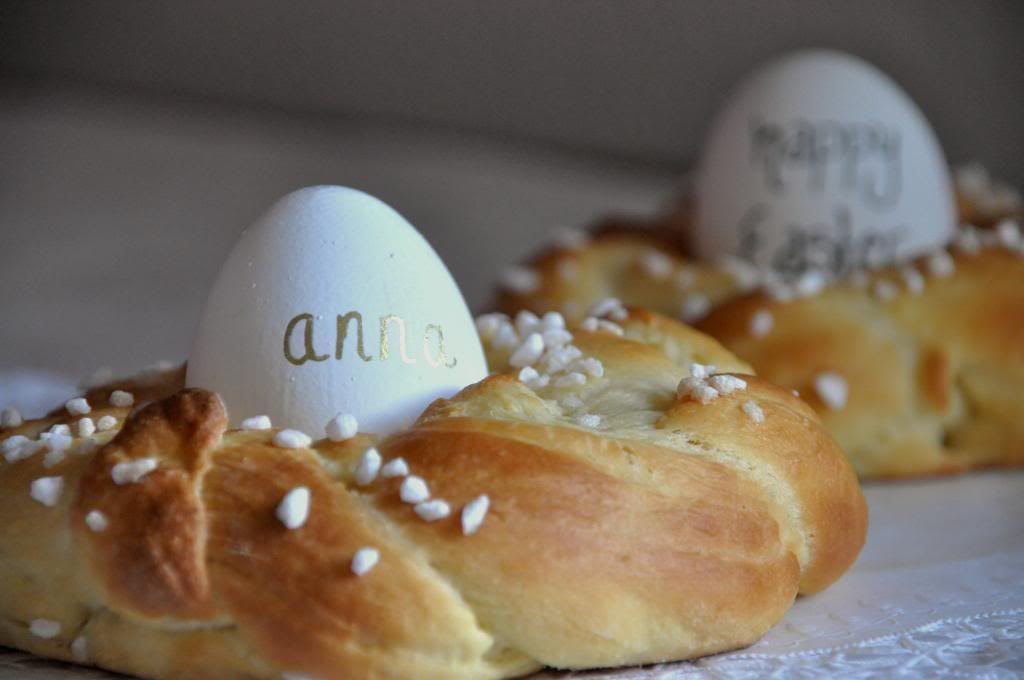 250ml lauwarme Milch / 250ml lukewarm milk
20g frische Hefe / 20g fresh yeast
75g Zucker / 75g sugar
1 Ei Kl. L / 1 egg size L
1 1/2 TL Meersalz / 1 1/2 ts sea salt
500gr Mehl / 500gr flavour
75gr weiche Butter / 75gr soft butter
etwas Hagelzucker / some coarse sugar
etwas extra Milch zum bestreichen / some extra milk for coating
Alufolie / aluminium foil
hartgekochte Eier / hard-boiled eggs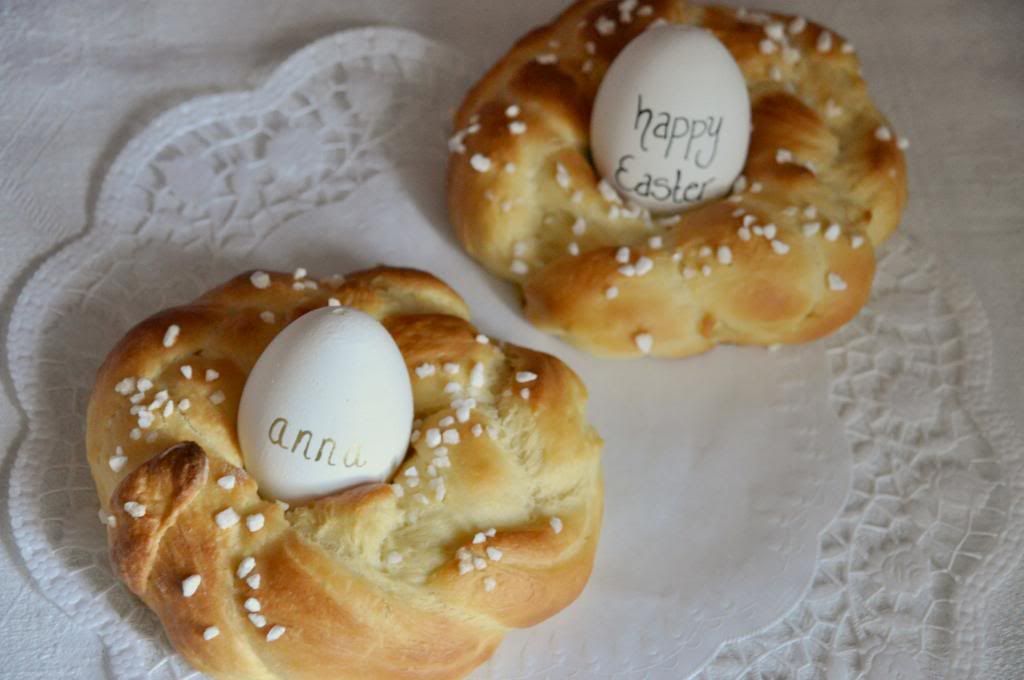 Den Backofen auf 200°C / Umluft 180°C vorheizen, Hefe und Zucker mit ein wenig Milch glatt rühren, die restliche Milch hinzugeben ebenso das Ei, Salz, Mehl und Butter. Für 10 Minuten kräftig kneten, dann die Schüssel mit einem Geschirrtuch abdecken und an einem waren Ort für ca. 1 Stunde gehen lassen.
Preheat the oven to 200°C/ 180°C for air circulation, stir the yeast and sugar together with some milk until its smooth, add the remaining milk, the egg, salt, flavor and butter. Knead the dough for around 10 minutes and put it back into the bowl. Cap it with a dish towel and let it rest for around an hour at some warm place.
Vom Teig einen kleinen Teil abtrennen, diesen wieder in drei Teile trennen und zu einem Zopf flechten. Den geflochtenen Strang zu einem Kreis schließen un auf ein mit Backpapier ausgelegtes Blech legen. Aus der Alufolie eine Kugel formen und diese in die Mitte des Kranzes setzen. Diesen Vorgang sooft wiederholen, bis kein Teig mehr übrig ist.
Cut a little piece from the dough and cut in three pieces. Braid it and make a circle, then lay it on the baking tray and make a ball out of the aluminum foil and put it in the middle of the braided bun. Repeat this until there is no dough left.
Dann alle Kränze mit Milch bestreichen, etwas Hagelzucker drüber streuen und ab damit in den Ofen (ca. 12 - 15 Minuten) bis die Kränzchen goldbraun sind. In noch warmem Zustand die Alufolie durch Eier ersetzen und ein paar hübsche Osternestchen ob als Platzkarte oder einfach ein leckeres Geschenk oder Mitbringsel sind entstanden.
Paint all braided buns with milk and sprinkle the coarse sugar over the buns. Put them in the oven for about 12 to 15 minutes until they are golden brown. Get out the aluminum foil and put in a hard-boiled egg. Ready are the perfect place cards or some yummy presents to bring to the hosts.
Habt ein schönes Osterfest ihr Lieben!
Enjoy your Easter Party lovelies!
lots of love,